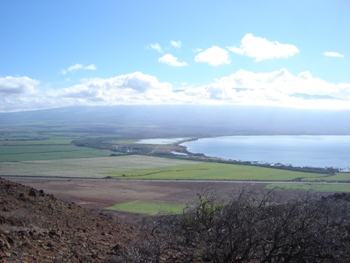 Two months in Maui this time around, and once again life feels more or less normal here, after the initial month or so of settling in, reorienting to a new residence and neighborhood, reconnecting with previous friends and new acquaintances.
The logistics of the move this year fell into place effortlessly, with a single email to a former drum student landing me a comfortable suite for reasonable rent, and a wider mailing to local friends yielding a reliable low-cost car.
This year I face none of the hardships of high-altitude living, all too similar to high-latitude living, in the nightly dive of the thermometer. Every day I see the scoreboard on my desktop with the lopsided tally (23-2; 28-7; 23- -4, Celsius) reminding me why I'm here.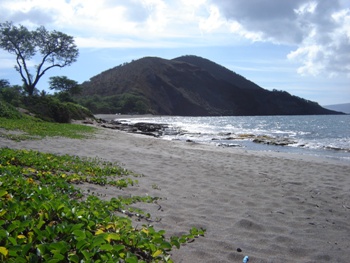 The island's best beaches lie waiting every morning just minutes away by car, with extended walks between and beyond the resorts of Wailea, down to the wild reaches of Makena and La Perouse. I have snorkeled just once this time, gone on one long ridge hike, seen no turtles or whales yet. The daily routine of swimming and walking is enough, I find, to connect well with the place, the land, water, air, and beloved sunshine.
During such outings I often, as in Victoria summer outings, carry materials to multitask on various creative projects: editing, writing, reading, music selection, rhythm study, flute and drum practice, planning.
Opportunities for drumming continue in various forms: Haitian and Brazilian dance classes every week, and less frequently, West African dance; Afro-Cuban jams with traditional rhythms and songs; informal workshopping with fellow drummers; private lessons to teach; and of course, the ever-inspiring Little Beach jams every Sunday afternoon, tending more or less to the West African style.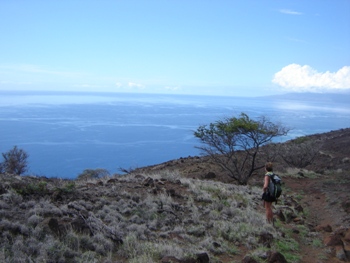 This year I have pared down my usual slate of other events including groups meeting for spiritual practices and teachings, yoga classes, and 5-rhythms dances. Living here on the "sunny side" means a longer drive to such events which happen most often on the rainier, which is to say cheaper, which is to say, more alternative region of the island. Still, I have sampled the laying on of hands (Deeksha), the toning of the sacred sound "Hu," Sufi dancing ("Zikr"), and attended a weekend workshop for writers. In general, though, when it comes to the cornucopia of possible events being offered, I continue my discoveries on the path of "less is more."
I spend most of my indoor time at home on the computer, engaged in a variety of creative projects, editing work, ongoing research in world affairs, and periodic indulgence in televised events: first the baseball playoffs, and lately the TV series (via Internet archives) The Event. The primary project occupying my attention has been work to edit and revise a novel of the Canadian North, inspired by the three years I spent in Arctic Quebec in the 70s. The other major focus has been to edit, select and compile, from a vast amount of raw recordings, several CDs worth of music from the Victoria-area improvisation group Strange Moon.
| | |
| --- | --- |
| | |
Just released are two albums featuring my flute music, largely recorded in Strange Moon jams. Coming soon are albums featuring E. Neptune on flute, Axel on keyboards, and two thematic compilations, Strange Yoga and Strange Funk. For some sneak previews, check out the slide presentation "Wailea," more flute tracks available for free download, and assorted Strange Moon selections at MySpace, Facebook, Reverbnation, and the Strange Moon website. Send me an email if you want to make sure to hear about it when these new albums are released!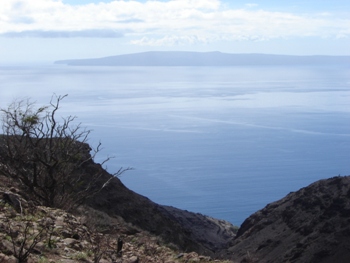 With all of this enjoyment of what life offers on this beautiful island, and taking advantage of my opportunity for creative projects, I have also enjoyed connecting with old and new friends from further north, the first wave of the annual snowbirds who come to dip their toes in the surf and sample the local vibe which goes simply by the name, "Aloha." For those who cannot hop across Pacific Pond so easily, I hear that leg warmers, wrist warmers, and abdominal scarfs can help beat the icy blasts. Bon chance, mes amis! A la prochaine...