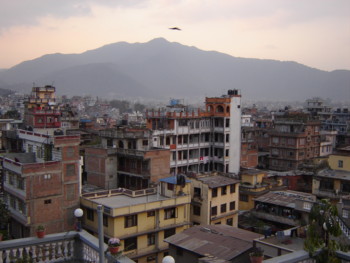 The long departure has begun. This trip will, if all goes well, end with me arriving home some 70 hours after leaving a guesthouse in Pokhara around 7:00 yesterday morning. That trip by bus to Kathmandu was supposed to take 6 hours but took 12, and it could have been more had my daughter and I stayed on the bus through the traffic jam in the outskirts of the capital beyond the final 3 hours, when we jumped ship in the company of a young Nepali man and his Spanish companion.
My daughter Nashira, thanks to her recent 8-month stint in India, had understood some of the man's conversation in Hindi with another passenger who had got on nearer the beginning of the jam with some dozen other refugees from another bus that had caught fire from overheating. The gist of the situation was that we were likely to be stuck for an unspecified number of further hours before reaching our destination. The alternative was walking for twenty minutes or so, joining the steady stream of pedestrians who were bypassing the columns of stalled trucks and busses, to a point beyond the jam where we could take a taxi for the final half-hour of our journey. We set out like trekkers with our backpacks over the rubbly dirt trail - no matter that the dust and mud and trash composed the sidewalk and street of a major city.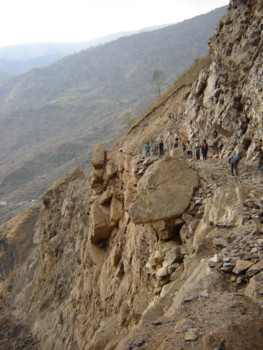 Earlier in the trip the trouble began when, halfway from Pokhara on a mountain curve, the front of the bus clipped the rear wheel of a motorcycle going the other way, passing too close. We heard a sickening bump and the bus came to a stop. As it happened the helmeted motorcyclist came out of it unhurt except for a scratch over his eye. But a lengthy harangue ensued, whereby blame was cast back and forth between the drivers of bus and motorbike, adjudicated by a growing crowd of motorists who had been stopped by the accident. Eventually police arrived on the scene, and taking the cyclist on board the bus, we proceeded to a nearby farm with a canopied table where the principals could hold their conclave at greater length, attended by the usual circle of interested onlookers.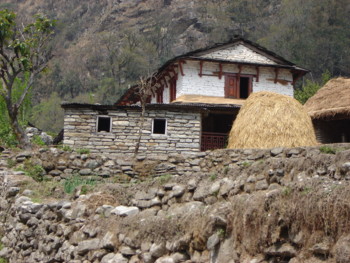 These proceedings eventually drew to some unknown conclusion, and the bus was able to continue down the highway ... not without some further delays, however, here and there as traffic was stalled by parades of trucks and busses packed to the rooftops with crowds of red-clad youth supporting one of the two Communist parties (one Maoist and one more moderate) currently vying for power in the country's first democratic election scheduled in a week's time. At times our bus merged into the parade itself, and we felt visible as supporters as if by osmosis; at other times the marching youth pounded on the sides of the bus as we passed - it was uncertain whether out of exuberance or mounting defiance.
Earlier on our trek among the Himalayan peaks, we had met a couple of UN officials stationed in country to help defuse the violence surrounding this historic occasion. The New Zealand delegate was here following stints in previous hotspots Afghanistan and Sierra Leone. Here in Nepal there had been, in addition to the simmering Maoist insurgency in parts of the country, daily attacks on competing parties, threats of revolution if victory was not won at the polls, and a host of assorted other conflicts set to break out after the election. It was a good time, we were assured, to be leaving the country. When I asked the New Zealander where his next posting would be, he smiled wearily and said hopefully, "New York."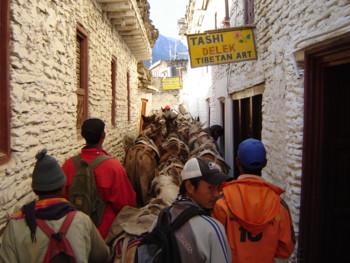 But could we leave? The streets and alleys of Kathmandu, like the mountain highways between cities, were roughly one-lane affairs even when paved. These single lanes had to accommodate not only two-way traffic of cars, buses, and trucks, but motorcycles weaving through them in even greater numbers, as well as bicycle-rickshaws, ordinary bicycles, and pedestrian traffic. People seemed to prefer walking on both sides of the pavement, or right in the middle, and blindly crossing at will, as if oblivious to the motorized madness that swirled past on all sides. Add to this human free-for-all the odd lazy water buffalo, frisky goats, black dogs in the night, random chickens, and everywhere a peasant of town or country bearing a great load on their back with a Sherpa-style head strap, bent to the task of centuries.
Our taxi driver for the final leg to the hotel that evening - like his brave comrade the following morning for the trip to the airport - was indeed able to navigate us somehow with sustained momentum through this chaos of streets. But after the accident with the motorcyclist, our innocence was no longer sustainable, and every near-miss (with a fresh challenge every foot of the way) was a real injury waiting to happen. Meanwhile at 10 A.M. the riot police, wielding long batons and clad in padded Ninja armor, were assembling on the street corners of the capital, awaiting street demonstrations that were already planned in reaction to some knifing incidents at election rallies the night before.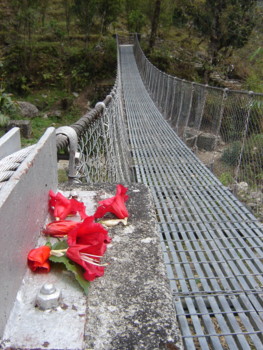 At the airport things were tamer, and more secure from our point of view, yet still strangely uncertain. There were no boarding announcements, no identifiable departure gates or flight numbers; just a generalized massing of people in exodus, eerily familiar to the previous evening's populist migration on foot past the stalled dinosaurs of a passing age. It seemed that all departing passengers, several hundred in number, were to await our deliverance in a single holding room looking out onto the tarmac. At the appearance and unintelligible utterance of a blue-clad woman near the front, half of those in the room leaped to their feet and rushed at a side door. I got up, hugged my daughter good-bye, and joined them. Asserting my way bodily toward the door with my boarding pass, I was informed by the woman in blue that this flight was not mine; I would have to wait in a smaller room in front of the holding area. There a mere hundred of us waited another twenty minutes in palpable anxiety - the anxiety of simply not knowing by any familiar or visible sign how or when our fate - actual departure - would be accomplished. Finally when a transit bus next appeared outside our room, people rose and headed for the door: the simple action of departure serving to signify itself.
---
Nepal: People Watching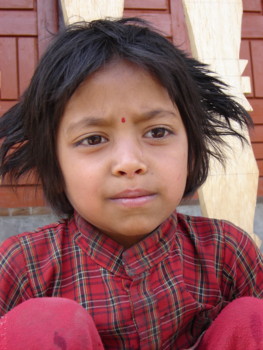 Standing by the side of the road
watching the world go by
shopkeepers, an old man cross-legged
a group of five teen boys
a woman in sari and shawl
what are they waiting for -
why are they looking at me -
passing in the tourist bus -
also doing nothing
but watching people
not working, not in meditation
not really waiting for anything
just watching the world go by
---
Trekking: flashback
(guest blogger: Nashira Birch)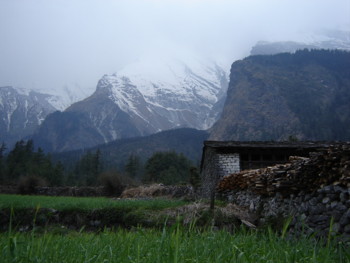 I know that everyone "absolutely loves" Nepal, so I feel unoriginal in saying it, but Nepal truly is an incredible place. The landscape, I think it goes without saying, is as stunning as it is diverse. The culture and people are also incredibly diverse and stunning, as well as calm and welcoming. Sometimes I forget that I'm not in India because Nepal is so similar in so many ways, and India has become such a big part of my reality.... But Nepal is kind of like an India in which someone has turned down the intensity meter. Clearly, in the mountains and villages where most of my Nepal experience has taken place, the contrast to Jaipur's chaotic intensity would stand out, but I feel even in the most intense parts of Kathmandu people generally seem laid-back, relaxed, and happy. Luckily for me, Nepali is very similar to Hindi, which has helped in meeting people (having them laugh that I speak Hindi, which most people here learn from television) and finding our way. It is an interesting time to be in Nepal, however, and there is a lot more going on than the postcards tell you.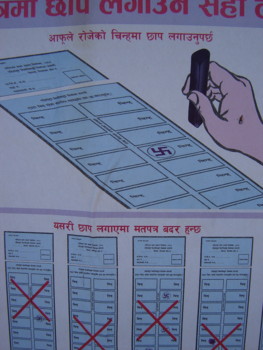 After a few postponed election dates due to political instabilities, a historically significant election is fast approaching (countdown: 8 days). Even far into the hills, communist party sickles and hammers adorn rocks, walls, and small flags and marches. Now, in the small city of Pokhara, every political party is "politicking" (in my dad's words), with slow-moving vehicles blaring music, loudspeaker announcements and slogans, flags, banners, and even a lively motorcycle brigade. UN vehicles meander the streets, trying to ensure everything goes smoothly over the next month or so (apparently it will take more than three weeks for the results to be released).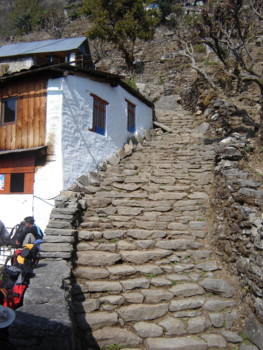 Anyway, the hiking: My dad and I "headed for the hills," as he put it, pretty much as soon as we could, and our lungs were thankful for the move from Kathmandu (Delhi may be one of the most polluted cities in the world, but they have gone strides beyond Kathmandu in terms of their use of clean energy and control of vehicle pollution). We did half of the Annapurna circuit trek, climbing through the most stunning and diverse landscapes (and moonscapes), I have ever been witness to. Every day held new surprises, new ecosystems, new views, new stunning peaks suddenly appearing above the clouds. We started our hike though steep hills terraced by rice, barley, and maize fields and scattered with small villages of stone houses. We climbed at least 3000 stone steps up over 2 days, and at least that many down again the next day. I thought I was young and healthy enough to overcome my lack of exercise over the past year ... my knees, however, having not seen so much as a hill in the past year of living in the desert, had different ideas.... Luckily, we landed in a village built around hot springs on the river.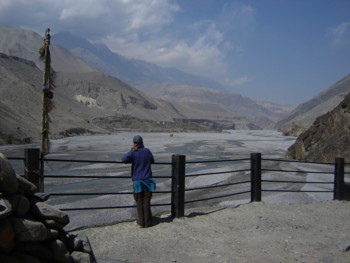 As we made our way along this river up the valley over the coming week, we hiked through the deepest valley in the world, and meandered along the narrow alleyways and prayer wheels of windswept medieval villages huddled into the hillside and topped by Buddhist monasteries and Buddhist-Hindu-fusion temples. The 6000, 7000, and 8000-meter peaks that appeared during the clear morning hours towered above us as we made our way toward Tibet through what was now a moonscape of bald hills and river beds and driving winds. It turns out the upper part of this valley (the Upper Mustang), which nestles its way into Tibet, costs $700 US just to enter for 10 days. We turned around here, and made our way back down the valley.
| | |
| --- | --- |
| | |
We are now resting in Pokhara in between espressos and Tibetan soup and thunderstorms, waiting for our journey back to Kathmandu, and re-entering the deja vu that, it would seem, is the traveler's bubble everywhere in the backpacker world (not to say the trail was completely devoid of this: I definitely - guiltily - had a Mexican enchilada about 5 days in!). You have your German bakeries, your banana pancakes, your Israeli salads, your endless strips of shops selling the same souvenirs, the same travelling pants (if you've been anywhere in Asia, you know the ones I'm talking about ... the MC Hammer ones), and the same Buddha miniatures. In Nepal, you also have endless shops chock full of North Face rip-offs. In India, the travelers go from place to place, almost never leaving this bubble. In a sense, sometimes I feel like people have only left home for the travelling culture, not for the Indian culture.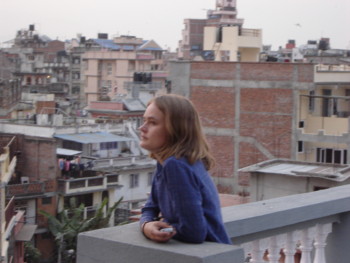 ---