1 MayBibi's Hideaway, Matei, Taveuni, Fiji
This could be heaven or this could be hell.--The Eagles, "Hotel California"
It's ironic that even while working daily on a writing project concerned with the central theme of living "in the flow" ... and even as I had worked my way through a wrinkle in traveler's flow-time to emerge, I thought, squeaky clean on the other side ... I was merrily striding down the road, like a Tarot Fool with his daypack on a stick, when I caught a stick on the road that jammed itself straight into my foot between my big and next toe. It was stuck deep in the flesh, and when I tugged it out, I was afraid to see just how deep it was. I imagined blood soaking my sandal, the way it had two weeks before when I'd stubbed my other big toe on a chunk of Aitutaki coral while walking down the beach in the dark. But I kept on to my destination, Bibi's Hideaway, which I knew was only five more minutes down the road.
I'd just landed on Taveuni ten minutes before, and in the tiny airport arrival area I'd declined the offer of a $2 taxi ride to my destination – not so much for the money, as for the short walk in my new environment. I was riding high on the wisdom of my abrupt change in plans for the day, thinking myself a master of improvisation, when mother nature's humble spear of justice was driven home.
I only made it halfway down the driveway when the shock of the injury finally caught up with me, and I dropped to the ground to keep from fainting. From a position half sitting, half lying down, I spread the toes, and found a gaping hole half an inch deep by a quarter-inch wide. Amazingly, there was not a drop of blood; but the depth of it was sobering. I immediately thought, "Oh shit, I won't be able to go swimming for days now." Then I thought, "I wonder if I'll need to get flown out of here. I don't even know if there's a hospital on this island." Finally I realized the irony of my coming here on Matt's recommendation, though he had warned me to carry good disinfectant after he'd been laid up for days here, unable even to come to this north end of the island because of a badly infected cut on his ankle from a bushwalk. "Oh, no problem," I had thought when reading his message. "I'll just be careful walking, and anyway I have tea tree oil and Polysporin with me."
I had to put those ingredients to quick use now, dousing the hole first with clean drinking water, then tea tree oil, then a generous squeeze of the antibiotic gel. I proceeded to rent a cabin, then dressed the wound more properly with the help of an alcohol swab and three bandaids taping the two toes together. Now, my next-to-last 500 mg. of Tylenol later, I'm hoping the dull throbbing pain won't return too badly in the night, and that I didn't leave any fragments of stick in my flesh.
The sleep part is an issue since last night in Nadi I was up for hours with the maddening itch of innumerable sand fly bites which covered my arms and elbows. Those same bites are still tormenting me tonight as well. But at least there's a mosquito net around me in Bibi's cabin to keep fresh bugs away. So I sit writing to the familiar sound of rain, with half an hour of electricity left to type by, and wonder, will I actually make it through this scheduled month on Fiji before turning tail for the comforts of home?
The time-wrinkle bit, I have to reflect, might have been rather a pushing of the river on my part, instead of a clever revision of plans. The day started well enough, with just enough time for a quick complimentary hostel breakfast before catching a taxi to the bus stop. My destination, the cross-island city of Suva, had been described by Matt as much like Victoria. More unsettling were reports I was getting locally and in the Lonely Planet guide about street muggings and rainy climate. The other unknown was the matter of connections by ferry or air from Suva onward to Taveuni; it seemed I would have to stay there two or three nights - or to pursue another option I wasn't sure about either, detouring to some of the small islands off the coast. But I was committed now, and I waited stoically with the other scattered tourists at the bus stop awaiting the 7:30 arrival. The long white bus arrived on time and everyone piled in, filling every seat. Fifteen minutes later came the first stop, at the main ferry port, along with an announcement about transferring to the ferries for various island destinations. I was the last one off the bus, and by the time I got to the driver, I realized I should have confirmed the destination upon boarding it. "Are you going to Suva?"
Sadly, no. And the bus I was supposed to be on had already departed for Suva. So the driver called around on the radio and sorted out that I could catch the next bus from Nadi town at 1:30. He dropped me off there at 8:30. It was a city I'd wanted to, tried hard to avoid, having heard it described as "horrible" for its pestering touts. In truth it was rather mild compared to places I'd been to in Bali and India. In any case, I thought I could spend some painless time along the dingy main street catching up with email and sipping coffee, so I proceeded to do just that. After email I stopped into a travel agent's to inquire about ferries and planes from Suva. He didn't know about ferries but gave me dates and prices for flights; the first seats available were in three days. I left looking for a good coffee over which to mull that possibility. A tout had followed me in and sat in the travel agent's waiting for me, and showed me where to go for coffee. It wasn't the place I was looking for, but a curry house – run, no doubt, by a friend or relative of his. I walked on and found another travel agent to ask about Suva ferries, but the information still wasn't promising.
As I turned around and headed back down the street, I was struck by the sudden impulse to ask again at the air travel agent's about flights from Nadi to Taveuni. If any were available I could just forget the whole Suva business and head straight to where I knew I wanted to go, Taveuni. Once there I would have plenty of time to figure out a return trip via Suva, if I still wanted to go there. I thought this whole swing in my plan rather a coup, even though the bus driver had gone out of his way to be helpful, and even though, with some hours of delay, the Suva plan would still have worked out rather providentially in its own right. But no, now I was taking charge; I was honoring those misgivings I had about Suva and the priority I was feeling about Taveuni, and taking the disruption in the day's plans as an opportunity to act boldly in a new direction. Canceling my reservations with the bus company and the hotel in Suva were the last moral hurdles, and both were easily cleared by phone from the travel agent's office. When the choice was presented to me of today's flight at two o'clock, I was filled with certainty in the impulse of the moment and said, "I'll take it."
Finally I retired to a proper breakfast of scrambled eggs and latte at the upscale Bulaccino, overlooking the pastoral river at the edge of the city. I spent a pleasant hour there after the meal editing, and becoming reinspired by, my ten-year-old manuscript about living "in the flow."
As it happened, later in the cabin on Taveuni, the book I was reading (Shantaram, by Gregory Roberts) consoled me a little regarding my small wounds and discomforts, by its contrast of the vivid suffering of its narrator in a Bombay prison, who was beaten all day by guards with sharp bamboo canes, and set upon at night by thousands of body lice, "with their wriggling, itching, crawling loathsomeness ... a frenzy on the surface of my skin."
Hardly the kind of consolation one should need, the far side of paradise.
---
4 May
Turning for Home
I've now spent three full days here at Bibi's Hideaway, while the hole between my toes slowly heals. With regular doses of tea tree oil and Polysporin, and bandages covering it the first two days, the wound has remained clean and free of infection while gradually closing. Meanwhile I have taken care to minimize my walking and to keep the foot away from water, dirt and sand.
Staying put, however, has its drawbacks in a place called "The Garden Isle." Usually "Paradise" is reserved for those hot and dry enclaves of sun hoarded by the traveling rich; the rest of us in search of vacation havens make do with the rainy sides of tropical islands, the edges of jungle, rocky shorelines, bush bungalows. All of the above generally mean one thing, where warm weather is concerned: mosquitoes.
I'm not sure what's been biting me here, adding to the itchy braille lining my arms, legs and shoulders, because whatever it is, it's usually silent and invisible. I've seen and heard some mosquitoes, for sure; along with smaller bugs like no-see-ums; and near Nadi they told me the culprits were sand flies. Whatever they are, they leave bites that are sometimes welts and sometimes pustules like a case of poison ivy, which itch for days and nights on end. The bugs are a little more scarce in full sun, but then I can't swim here yet, so a half-hour broil is about the limit of that remedy. The shade is worse. Then I have to cover my skin in tea tree oil every half an hour, and still I manage to get bitten; the alternative is to use toxic DEET or mosquito coils, but these are also only partially effective, besides having odious side-effects.
So after a morning's consideration of alternative plans, punctuated by the usual stings and bouts of scratching, I finally became inspired by a single mission: escape. I walked to the airport, was told to come back later, and continued up the road to the top of the island of Taveuni. It was a sunny day after much rain, and my foot was feeling well enough to walk, so it felt good to be out on the open road again, with the breeze cutting through the midday heat and keeping the bugs away. The shoreline was beautiful as advertised, though again I could not take advantage of the opportunity to swim. Finally I came to the point where I knew there was no point in walking further. I'd come to the top of the island in the middle of the world, or the far side of paradise, or mosquito heaven - and it was time to turn around. It was time to go home.
---
Postscript
The seasons change, and so do I ...--The Guess Who, "No Time"
It hasn't been all bad here. The privacy has been lovely - except when the lawn crew advanced on my cabin area with their weedeaters buzzing like mechanical mosquitoes. I've actually been able to parlay the combination of private space and ambient noise of grass cutters and power generator into a rare opportunity to practice flute again. It's been a refreshing break from the hostel scene. The time for healing has been a fruitful time also for reflection of my overall needs for happiness, whether on the road or at home. As always there are tradeoffs, but now the various factors stand more clearly outlined: misery from mosquitoes vs. cold weather; social boredom vs. long-term friendship; solitude vs. musical opportunity; sunny heat vs. quality food and water. On balance I realize that the place I call home, Victoria, is actually at the top of the list, all things considered. Even in winter it ranks with the best of the tropical travel locations I've experienced on this trip.
I embarked on this trip six months ago on the premise that warmth and sunshine were of first priority, and therefore I had to get out of Victoria. That was true for me then ... when I barely got out of town in the midst of an ice storm. Of course, now after I've had my fill of sun and heat, my priorities appear on the other side of the scale, with friends and music and having my own space again - mosquito free.
---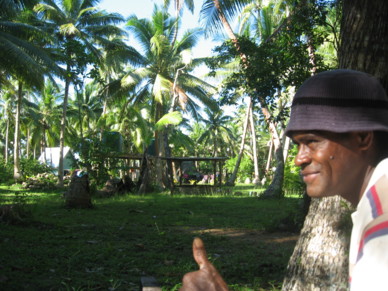 10 MayCaqelai, Fiji
Fiji Redeemed
Rather than leave a false and one-sided impression of Fiji based on my limited misadventures here, I should report that there is one small corner of this nation of islands, tiny Caqelai ("Thangalai"), that has lived up to my hopes for what it might be like. The whole island is small enough to walk around in fifteen minutes. There is nary a mosquito to be found; the water is warm and pleasant for swimming and the snorkeling opportunity right off the beach is vast and marvelous; the tourist impact is minimal, with just a handful of us here, in a few tents and basic beach huts, forming a congenial social group; the local staff is friendly and laid-back and treats us to nightly bowls of kava. I couldn't be more satisfied to have found this final resting place for my wandering soul before heading home.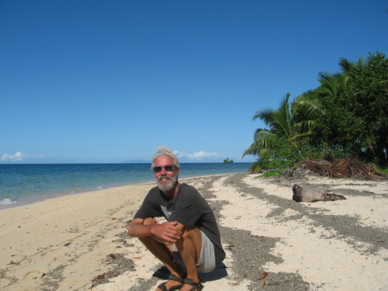 At the same time I have no regrets about a change of flights to return to Canada two weeks earlier than planned. Four days is ample time to soak up everything Caqelai has to offer. In my first three hours here I managed to have a good swim, sunbathed, played flute before the vast panorama of the South Pacific, explored the exposed reef stretching out to even tinier Snake Island, and walked around Caqelai twice.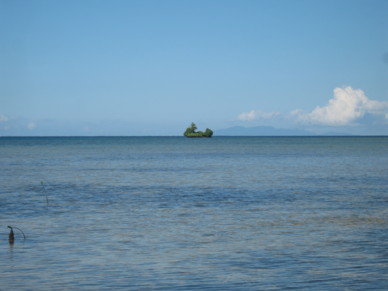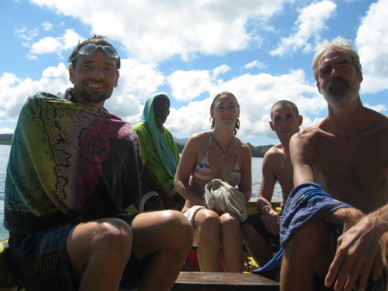 It took some doing to get here, which is one reason Caqelai has so few visitors despite its pristine beauty. (Another likely reason is the absence of a bar, as the resort is owned by the Methodist Church.) I stayed in Suva three days in order to figure out all my travel details, but finally, after a local bus ride and an outboard boat ride down a river and out to the island, I made it here with three other travelers. Every day has brought a slight turnover in the dozen or so guests here, while the group continues with a loosely stable identity of people with, at least, similar tastes in travel. Conversations trail on long after meals and then, gradually, we make our way back to the beach, and out into the tranquil waters to explore some more of the living reef at our doorsteps.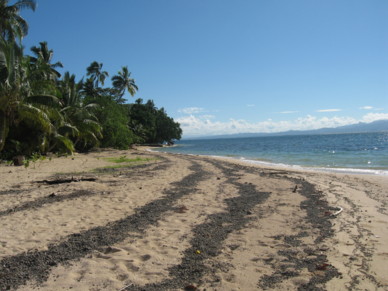 Today as I sit on the shore by the lapping waves, the picture is overlaid by the waves of the northern Pacific that I imagine sitting beside in five days' time, back in Victoria. And when that time comes, I imagine these present ripples will still be echoing forward in time, overlapping my new experience with the memory of this one. So there is compensation in the large transition from country to country, equator to temperate zone, as the soul adjusts and balances the journey that will occur in a day at unnatural speeds of flight. The real journey, on the inner plane, happens more at the speed of a sailing vessel, and so as I write it has already begun.