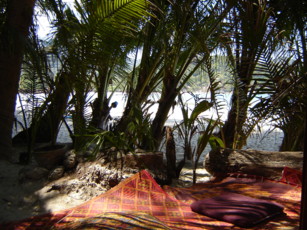 I stretch out in my wine-colored hammock and sway gently in the shade. I've just had a lovely lunch of grilled eggplant and feta cheese on warmed whole-grain bread, with mango chutney and a salad of peppers and olives. Classical music during lunch; after smooth Miles Davis jazz (I've heard enough Ben Harper and Bob Marley at beachside restaurants already to last me for the next four lifetimes) over breakfast of French toast, fried tomatoes and Vienna coffee. The beach is broad and long with perfect sand, calm crystal aquamarine water, and few people. This is Hat Thong Nai Pan Yai, a jewel of my first visit to Thailand a year ago, and a place where I was determined to come back and spend a few days. I arrived this morning by longtail boat, a short cruise over calm morning water around the wild and rocky northeast coast of Ko Phangan.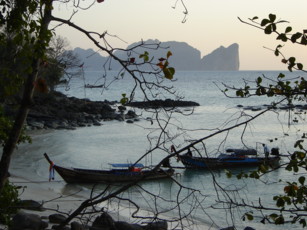 Of course, as I sit reading in the hammock, the angry buzzing of a nearby chainsaw rattles me into action - writing - anything to break away from the chaotic noise of what-is. Earlier when checking into my bungalow the owner warned me about the nearby water pump, which she said might be noisy. I could barely hear it through the walls, and what I did hear was a quieter version of what I'd spent two decades listening to behind my house in Argenta, the whirring alternator connected to my waterline as it supplied me with 12-volt power.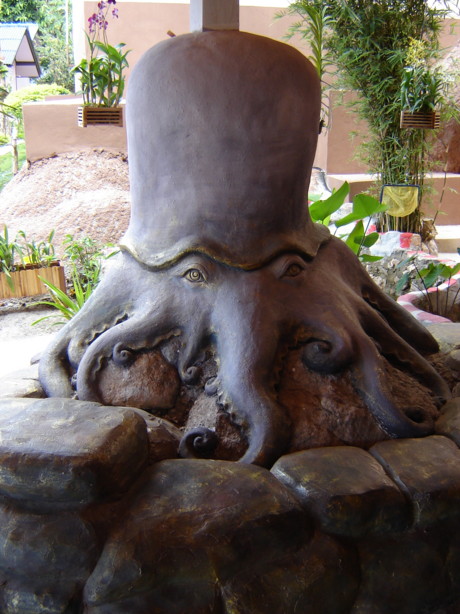 The last place I stayed in was also quite pleasant, on a hillside at one end of Hat Yao. It was called Dream Hill, featured a large Ganesh-like octopus as a centerpiece, had free email, and some excellent Thai cooking. It was also a pleasant walk past a few small bays, by dirt road, to the Pyramid Yoga centre where I gave drumming classes every other day for a week. The fly in that ointment of utopia came the last night of my stay, when a DJ party on the beach blasted monotonous electronic beats far into the night. The same thing happened a week earlier at the presumably isolated Hat Yao ("Long Beach") at the southern end of Ko Lanta, leaving me virtually sleepless the night before leaving.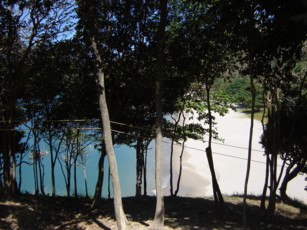 As for this present state of bliss - now that the chainsaw has gone blessedly silent - I have for contrast the memory of last year's visit with Nora and Cleo, when we were so charmed by the Dolphin Bar. That was blissful in its own way, yet at the other end of the spectrum of: alone . . . in company.
---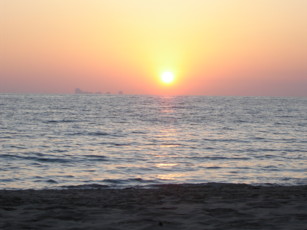 On Traveling Alone
alone -
adj. A state of social isolation craved by everyone except those who have obtained it.

--The Cynical Web Sitehttp://www.cynical.ws
At the yoga centre I chose an Osho Tarot card and drew "Healing." The picture was of a watery body with semi-permeable boundaries; the message was also about opening, letting one's wounds show and go, dissolving with the ego.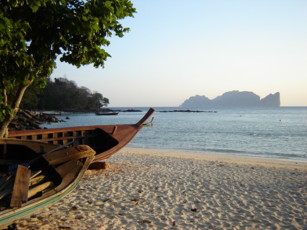 I don't know if my personal "wound" is best described as "alone," but I do know that it is a condition that carries with it the potential for strength or weakness. It is also subject, as the "cynical" definition above says, to the swinging pendulum of grass being greener the other side of where one is.
People ask me what it is like to travel alone, especially for such an extended period of time (six months). My response will vary according to my mood of the day. A common perception is that it would lead to unbearable or overwhelming loneliness. Certainly I am in a minority as a "single person" in most of the tourist resort areas where I stay; and in this sense I experience the relative alienation or "otherness" of any social/cultural minority.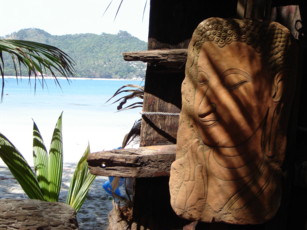 How refreshing it was to meet and mix with the students at the yoga centre, most of them there as single individuals, and sharing my values and practices (yoga, meditation, spiritual and health concerns, music - instead of the prevailing paradigm of drinking, smoking, hanging out, late-night partying). Another interesting experience came one day when stopping by the tiny bay of Hat Thian, where I entered the carefully quiet ambience of the local restaurant amid the stares of the "local" tourists staying there. In a good mood of my own integrity on this occasion, I sat alone in the mostly silent space and ate a meal, then was about to move on when a volleyball came rolling my way. I picked it up and tossed it back to the guys who had started a game, and was invited to play. Then I passed a pleasant and sociable couple of hours with them, engaged in the game and bonding in that way.
So the question of aloneness has much to do with the inner and outer circumstances of the week or day or moment. In the broader context of my life, it's helpful for me to remember that times of being alone (out of intimate partnership) have been rare, so I can reaffirm that this is a positive choice for me at this time . . . also leaving open the opportunity for a new partnership to begin at any point. Sometimes it seems that having that mixed agenda (intentionally single, or potentially looking?) can create uncertainty and discomfort.
In the social mode, at restaurants or on the beach among others, I can fall into the trap of uneasiness or self-conscious aloneness. Also there is the natural desire to share good food and beautiful beaches with another/others on a personal level. So it is frustrating sometimes to keep my appreciation to myself or feel it with others around me only in an unspoken and impersonal way.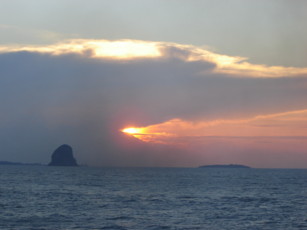 A subtle attitude shift can take place at such times, however. I can feel self-fulfilled or even already connected with the people around me, whether or not I am conversing with them - Vipassana-style. And I can contrast my situation now with times when I have been part of a couple, yet still "alone" in the sense of being disconnected or out of harmony with the other person. That negative state of conflict can be worse than the more or less neutral state of being in my own space.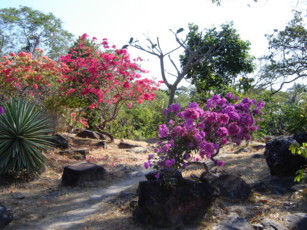 Traveling on my own gives me the opportunity to appreciate "being in relationship" with each place I travel to, even if only for a few days each. It's interesting to see this series of stops along the journey as a kind of metaphor for my history of "serial monogamy." On a more profound level, I can realize my relationship to all-places . . . and deepen my relationship to myself, whatever that might entail, whether liberating or humbling.
Traveling alone has other advantages that compensate for feelings of lack and limitation. In my case, I make positive use of the time by engaging in working (editing), writing, website upgrading, blogging, photography, music, swimming, walking, traveling, sightseeing, discovering . . . all of which are self-fulfilling activities.
Even while traveling on my own, I enjoy the communication and connection and relationship I maintain with people through editing, email correspondence, blog entries, and enduring friendships back home. All of this comes along with the fresh encounters with other travelers and local people that occur more or less continually while "on the road."
So much is a matter of attitude. I can consider this whole journey as an extended "dieta"--like my 7-day period of isolation and fasting in the jungle in Peru, for the sake of personal growth and transformation. Also, those core creative activities like writing and music composition that require aloneness are actually gifts to myself - especially since during much of my life in relationship I have jealously longed for more such time. This is probably the area where I most easily accept the tradeoff of loneliness, and where I reaffirm my commitment to make the most of the opportunity now presented to me.
Finally there is always the freedom to connect at any moment (as at this very moment of writing, a man from a neighboring bungalow comes to me and asks to borrow the broom beside me on the porch). Or I can, when the need is stronger, more actively and intentionally reach out to make connections. My natural shyness inhibits me from doing this as much as I would like, but there is always that choice available.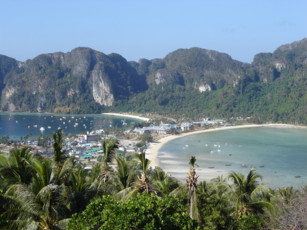 As usual in my life, it comes down to a matter of balance. The balance shifts from time to time, between loneliness and fulfillment, between disconnection and communion, between solo and couple and group. The best I can do is to try to stay authentic with my truest needs and desires, and open to the inspirations and opportunties of the moment.
Postscript: A succession of friendly encounters immediately followed my writing this, this morning; which just goes to show how the greater flow has a way of taking care of the business of connections, if the heart and mind are open.