3 December, 2006
Two days into my trip, and already I have experienced the worst and best of what I might have expected. Well, not the absolute worst, or best, but the trivial worst and the essential best.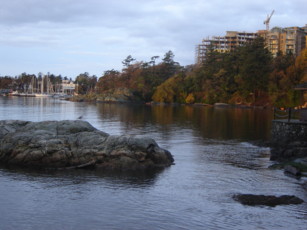 To dispose with the trivial first. I barely escaped from the freezing snow and icy rains of Victoria and Seattle, shedding my fleece and windbreaker and toque at Chris's house with my car, and walking 45 minutes to the Clipper downtown. Luckily I had discovered that my runners had serious holes and were expendable, so at least I could wear them for the trek until the SeaTac airport where they went into the trash bin, and save my sandals for the remainder of the trip out of the ice and snow. My socks and feet got wet and cold anyway, but the long walk in Victoria and again a brisk walk in Seattle for a second city bus connection, after I just missed the first, at least kept my blood moving. Missing that first bus but catching the second by flagging down the driver a block early mirrored the bad/good luck that would follow in the first two days of the journey.Yesterday on arriving I was shortchanged on the bus and then overcharged in the guesthouse restaurant. In both cases I could have or should have known better, but was cast in the spell of the jetlagged and newly-arrived - just as in
Spain
when I bought my first train ticket. The bus to Koh Chang again cost twice what my research told me; but at least it was easy, with a pickup from the guesthouse where I booked it, and passage with an additional taxi ride all the way to the bungalow I had reserved. Then the bungalow stuck me, as I already knew they would, for a double-occupancy rate, claiming that "all the places on Koh Chang charge for double occupancy"; though in a quick scouting trip the first night I found three places offering single-occupancy rates.Turning down a taxi tout at the airport offering a ride for 1050, then 700, then "for you" 600, I found a free airport shuttle to the bus terminal where I transferred to the city, walked a few blocks to the river ferry, and boated to the Thewet pier. During the final walk to the guesthouse next to one where I stayed with Nora and Cleo
last winter
, I reminisced via the sights of temples and smells of markets and food stalls, and sensation of humid 30-degree heat, and felt a homecoming sort of familiarity. Also a deep and reassuring affirmation of the basic purpose of this whole 6-month junket, that I would not have to be cold any longer.I did feel self-conscious of the difference on this trip this year, travelling alone. It seems most farang travelers here are couples, most in their twenties; or white males of my middle age who are either burnt-out looking expat types long ago given up to this rootless lifestyle, or puffy bland reflections of my own privileged status on the loose with inherited or overearned middle-class wealth. No fair ladies of my own life-stage and disposition? But what if there were? I was firmly set now on my own path of no more compromising with my essential life purposes: stay warm, swim, and play music wherever possible.
On my arrival at the Bailan Family Bungalows, I set up quick housekeeping next door to a fat London couple with thick accents, and headed for the beach. There only a few others lounged or read on the coarse dark golden sand, or fished wading out from the rocks, and I tested the waters before sunset. The brownish water was salty and bath-warm, and the bottom was rocky with the tide out. The sunset colors gathered slowly in intensity, in the lukewarm air. This was not a glorious splash of paradise hues, but a muted, more subtle brand of chosen environment. The essentials seemed to be in place, yet lacked a certain definite impact. In fact, on leaving the beach, I noticed a definite line of demarcation revealing that the sand had been imported here, dumped as a gilt overlay upon an otherwise unappealing stretch of plain brown dirt.On Saturday night at the Tree House, the most popular destination for the backpacker types, a crowd of a hundred or more sat in the dim-lit sprawling bar and restaurant, a virtual campus of the university of ex-university. Couples chatted, alluring young things sprawled languidly on hammocks, DJ tracks grooved in the background. "Amazing," I observed to a nubile princess standing in line with a menu beside me. She said nothing. At the desk I inquired about room rates and retraced my steps down the gravel path through the forest, stopping for an hour at a lonely Internet outpost manned by a tanned longhair busy at a sewing machine.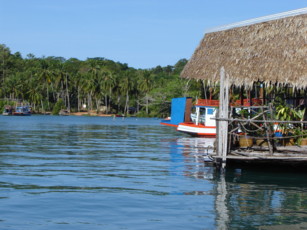 Today the tide turned, in various ways. I awoke before seven and enjoyed a lovely swim in the now soft-sand-bottomed waters at high tide. Had a fruit lassi at the guesthouse restaurant and changed my reservation from four nights to two, given the cheap alternatives in the neighborhood or also likely farther afield. Then set out on foot over the forbidding hills to Bang Bao, the fishing village at the south of the island.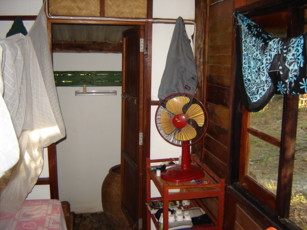 Just short of the turnoff to the village, I followed the obstacle-smashing impulse of my miniature Ganesh that
Melanie
had given me as a talisman for the trip, and stopped to inquire at the Elephant Gardens bungalow operation. Virtually the same accommodations as I was paying 480 for - an eight-by-eight hut with double bed, mosquito net, small porch, and adjoining bathroom with toilet, sink, and shower - was available here for just 100 baht ($3). Is there a good beach nearby? I asked. There was, at a 25-minute walk down the main road, and one hardly anyone knew about because it was past the limit of current development on this end of the island. In fact, these two - Agatha, from Poland, and Jan, from Austria, just coming down the path - were on their way there and maybe they could show me where it was.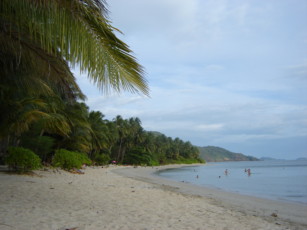 Finally a friendly bungalow owner and two friendly walking companions; and the beach we came to was superb. Soft white sand curved around the forest for a mile or so without any visible human impact, past the restaurant and bar at the sparsely-populated main beach area. After a long pleasant swim and beach walk, I ate an excellent spicy and tender squid red curry stirfry for lunch, and headed back to explore Bang Bao where I wanted to check out Internet facilities, availability of espresso, and boats to the neighboring smaller islands of Koh Wai and Koh Maak. As I said, the essentials.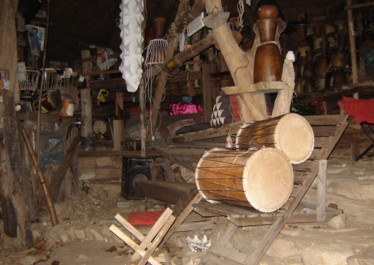 But the best was just to come around the first corner, where I saw same faded funky signs advertising "Djambe's . . . hand drumming . . . drum workshop." Of course I was intrigued to see all
my own favorite keywords
thus displayed before me like a mirror-mirage, and turned down the little path to the shore. I met there a small coterie of interesting-looking folk of indeterminate age or origin. It turned that most of them were from Turkey; there was a resident fellow named Djambe who said the few bungalows were full but they welcomed visitors to jam with them on the beach every evening, with drums and also other instruments. The drum shack was piled with djembes and drum shells, with a prominent pair of dunduns displayed in front. When I saw those drums I said to Ganesh or allied spirits, thank you for this gift of the path opening for me in just the right way - I don't need to go anywhere else now. Jep was working behind the shack. He looked more Thai than the others, and expanded on the invitation to come jam - no fixed ending, just when you feel like stopping.I promised to return, and did go on to Bang Bao for reconnaissance of Internet, coffee, and boat trips, declining an invitation from Djambe to sit and have something to drink then and there, as there was this other impulse in me to walk when I felt like walking, and to take care of all the business I had set for myself even on this providential day. In Bang Bao a German woman running a dive business caught my ear for a while, steering me to the best Internet and coffee place, which I enjoyed in short order. On my way out of the village with $200 worth of fresh
editing
jobs on the tiny flash drive in my pocket, I stopped for some fresh-cut pineapple at a little stand. I waited there and then spoke a while in pigeon English with the woman who served me. Her name was Nan and she had a 26-year-old daughter in Bangkok who was returning to Koh Chang in the new year. Did I have a lady? "No? Wait, I'll show you my daughter's picture. She and her man, they split apart also." The daughter was indeed beautiful, posing in school outfit with a soccer ball, and a golden gown. Korp khun kop, I said after finishing half the pineapple, and took the rest with me as I headed out of town again to reserve my hut at the Elephant Gardens.6 December, 2006I've been making some good connections here. At Djambe's I went for an excellent evening's jam, with Jep, Ozan the Turkish medicine man, his sidekick the sailor, and his beautiful wife who makes felt shoes. Together they are also here, for six months, working on a project to make and market a kind of bandana with sunglasses. When I suggested these might be popular among the BC ski crowd and
Mountain Equipment Coop
set, they offered me the Canadian patent. While not sure I want to take on another business interest, I thought maybe one of my jobless friends back home might appreciate the opportunity. We played the Thai-made African drums, flutes from Turkey, Irish pennywhistle, hammered dulcimer, didgeridoo, and plastic shaker for five hours under the almost-full moon, on the sand and in the shack opening to the beach.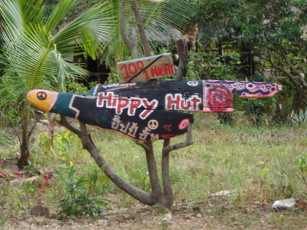 It was a setting and an opportunity almost too good to be true. Indeed, the little strip of land there between beach and road is only rented, and Djambe noted that the undeveloped land beside that last choice beach down the road is presently for sale. By this time next year, everything here that is most enjoyable could be swept away by the relentless tide of tourist dollars.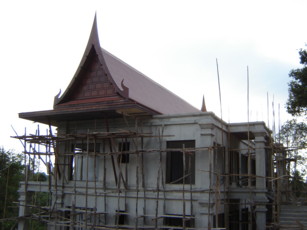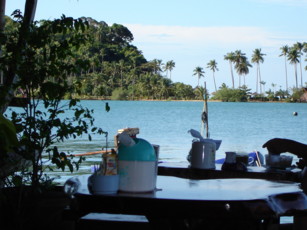 On the Bang Bao pier is a tapas restaurant called Little Havana. The choices I made, a dish of soft feta and gently fried vegetables, and tender potatoes with aioli, plus a pineapple-orange-lime drink, were all absolutely outstanding, and a welcome change from a steady Thai diet. I chatted with the owner who is from Belgium. He also works as a website developer and database manager, for clients back in Europe, from his new location where he has been for six months now. He has a Russian girlfriend, but knows enough from being here to explain to me the difference between the Thai "bar girls" and what Westerners would normally call "prostitutes." "Here what they want is, maybe you could even say, a friendly relationship," Dido told me. "A night of fun, and then maybe you take care of them a little, spend a little money on them."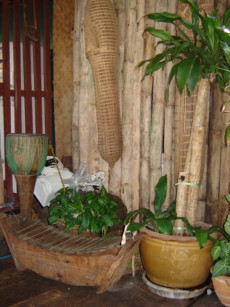 I was curious because at Lonely Beach while walking down the road, I had been accosted by two or three such beauties from the balcony of a roadside bar. "Hello! Where you going? Come here." I kept walking of course, set in my Canadian reticence and prejudice about such things. And I was already hooked up with a couple of folks I'd just met at a restaurant, on our way to a live music concert nearby. That connection began with my query about a djembe on the premises. At the concert I ran into the London couple living in the bungalow beside mine. I left after a short time and, while I was getting ready for bed, the couple also arrived home in the midst of a fierce drunken argument full of swearing and so thick with alcohol and Cockney that it sounded like a foreign language laced with Anglo-Saxon expletives.Dido's eyes lit up when I told him I played
African drums
. He was a staunch fan of Belgium-based djembe star Mamady Keita, had seen many of his concerts, and had even hosted an after-party for Mamady at his own house, and jammed with him there. Presently he hadn't played in a year, and was excited to hear that I could show him some
new rhythms
to add to his limited repertoire consisting of a few variations on Kuku. In turn he caught my interest on the subject of
Drupal
, an open-source website design and database engine that I could use for my own website projects and those I build for clients. On top of these common interests he is a divemaster and avid snorkeler, and suggested that we might tour around the nearby waters on a friend's boat to do some snorkeling.I had been intrigued by Ozan's resume as well, as he had made a personal study of alternative and primal healing practices, including knowledge and practices from Siberia (the origin, he said, of a core strand of Turkish people), the Caucasus, China, and India. A quick diagnosis of my own complaints confirmed what I had heard from a psychic reading two years ago, that I needed to strengthen my "inner fire," for example by a dry spicy diet, sea salt, restriction of water after meals, and expression of anger. He invited me to return some time for a more complete consultation. On his part he was fascinated with the spirit evoked by my humble tin whistle, likening its ethereal tones to the eagle-bone whistles of shepherds of the high Caucasus, or for that matter, Siberian and North American natives. I promised to return also for the purpose of tuning the somewhat wangled strains of the dulcimer with the help of the pennywhistle.Last night I enjoyed the varied company of the other international travellers in the cozy ambience of the balcony restaurant at Elephant Garden. The menu offered again some refreshing and tasty alternatives to the ubiquitous Thai food. The crowd of seven or eight was oddly silent as they ate, swung in lazy hammocks, read, or simply gazed into the near space, full enough with its palette of red and yellow cushions, softly lit palm thatch, golden bamboo. British rock music played in the background, probably the choice of Will, the owner. The human silence was almost uncomfortable, but seemingly mostly for me, since the others appeared content and meditative. I gradually adjusted, recognizing that this scene was not unlike a Quaker meeting; though most of us so gathered were semi-horizontal instead of sitting on hard wooden pews or plastic urban chairs, and our thoughts were perhaps more immersed in our momentary sensuous pleasure than in reflections on the life of George Fox or Jesus.Finally I recognized that two of those seated on the floor around a central table of food were Agatha and Jan, whom I'd met again earlier that day at lunch on the beach. I took a cushion beside them and struck up a conversation that then extended to some of the others for a few more hours (while some chose to remain present but mysteriously silent for the duration). Besides Agatha there was another Polish woman there whose national identity, Agatha remarked, was revealed by her preference for putting ketchup on pizza.Dido told me that today there would be a tropical storm arriving via Cambodia, the remains of a deadly hurricane that swept through the Philippines. But this morning the skies are still blue and balmy, the breeze is gentle, the waters lapping at the pier quite calm. Having just breakfasted with banana pancakes, guava juice, and real mocha, I suppose it is time to head for the beach. Who knows - the storm may yet decide to show up later. So might my 285,000-word editing project, due to arrive any day now.For that matter, so the world's media voices opine, Mideast
Armageddon
, the perennial bogey, now slouches ever closer. I stay ahead of that end game reading Margaret Atwood's dystopian masterwork,
Oryx and Crake
. Sadly, it is almost finished. After that, what? I already discarded the rest of my fiction collection before leaving home. I will write an essay - maybe today, maybe tomorrow - on Atwood's book and call it "The End of Fiction."Curiously, her and my last word in fiction mirrors the collapse of civilization itself. In the meantime, there is still a meantime. An "average time," perhaps not. A mean-spirited time, certainly, in some unfortunate quarters of the world. I can only be grateful that such is not my current condition, at least not here, not now, in the immediate surroundings of the smally personal "me," and of the locally acquainted and selectively networked "we."